i've kept journals since the 6th grade (i have 7 so far), and from time to time i will break them out and read about my life in the past. the first ones are soooo annoying. all i talk about is boys and the most pathetic things. i also was a total jesus freak, so that's embarrassing. you don't even know...

but, there was a long period of time that i had a huge REAL celebrity crush on devon sawa, famous for little giants, now and then, my favorite (but less known)- the boys club, and of course IDLE HAND. at one point, i constructed a huge centerless heart over my bed in which i pasted three internet printed pictures of him inside. i wrote about devon sawa in my journal a lot. here's one example:

6-27-98 (whoa ten years ago!)
I rented some movies over the week. "The Boys Club" had Devon Sawa in it. I fell absolutely in love with him again. When I'm older, I should rent that movie and find out how Devon is doing. He's SO HOT!!! And he looks so sexy in the clothes he wore. His voice makes me melt. I wish I marry him. I also rented What's Eating Gilbert Grape. That's a really great movie.
Devon + Dana (enclosed in a heart)

so, true to my 13-year-old self, i will try to find the movie and rent it. also, i've looked up to see how that devon is doing...

Currently, Devon Sawa is in pre-production of the movie "Bind". This year, he finished Creature of Darkness, which we should all be seeing real soon. Before that, he filmed in 2006 the major hit "Devil's Den", the movie's tagline being "Perfect bodies. Damaged souls." Sounds pretty good. Pretty much, he makes really shitty movies- minus his part in SLC Punk, which I enjoyed. And here is a glorious picture of the man I fell in love with in Boys Club- he was a bad-ass and apparently dressed to rouse all lust within my teenaged body...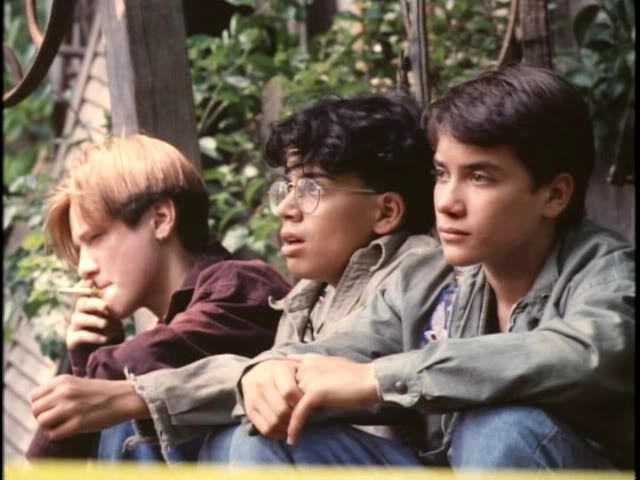 this is the exact picture i put over my bed. you will find devon on the far left, being totally bad boy-ed out, smoking.

i'm happy my marriage wishes didn't work out, because he didn't turn out so well...